Healing DNA Retreats are about Rejuvenation, Regeneration and the healing of difficult levels of illness - like heavy metal poisoning and cancers. They are also about this beautiful planet too.
They cover the
1.
the natural plant food based healthy life and lifestyle
2. the hidden 'shadow poison' in the body
3. and how it all came to be.
Each facet matters, but it is about healing DNA and also about releasing the literal poison - the toxic energy - that lies within the body.
It
all began
with information
unexpectedly discovered when investigating further into the therapeutic origins of Natural Plant Based Vegetarian, Vegan-Friendly Diets, Healing and Health, which
included needing to find answers to things that just weren't being answered!
Some of that meant trying and using remedies that for questionable reasons are banned in western countries like USA, UK, Australia etc but which do successfully tackle various problems, and cure some cancers. Or there are illnesses that the medical profession doesn't have answers for, or perhaps doesn't even diagnose - like the poisoning I experienced from the mercury laden tooth filling material amalgam lodged in my gum which then spread through my body. Or there is damage to DNA and
the reason for the breakages called 'junk DNA'.
And
the reason these alternatives are banned, may be something to do with the rest of story we would also like to share with you at the Retreats in Angkor Wat, Cambodia.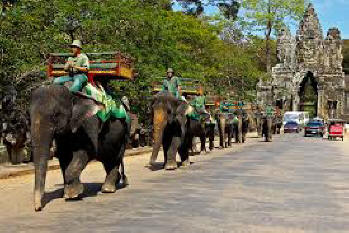 Retreats
may be the only way to get this
specific knowledge out there, so we want you to relax and really enjoy yourselves in a truly amazing place. Have fun, and spend time right in the centre of an actual anchor point of the 'true path' of this planet at Angkor Wat.
Make friends with an elephant, go shopping, enjoy vegan/vegetarian cafes, visit spas.......,whatever you want to do.
Then come to the.......
HEALTH and WELL BEING EDUCATIONAL RETREATS
Indo-Chine, South East Asia.
Relax. Breathe. Have Fun - then come to the lectures!

Near Angkor Wat - a place where you can have lots of fun for sure, like riding an elephant, or bike tours, shopping, dining out, enjoying the peaceful beauty or the vibrant life, and of course visit to the temples.
HEALTH and WELL BEING EDUCATIONAL RETREATS
where we live in Cambodia, Indo-Chine South East Asia.
Voted #1 Tourist Destination in the World by Trip Adviser for 2018!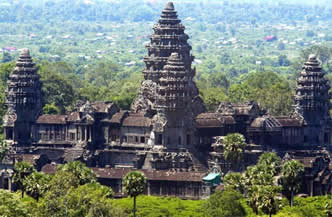 We are pleased to announce Health and Well Being + Discussion Retreats. Relax and enjoy all that this beautiful place has to offer - Voted #1 Tourist Destination in the World by Trip Adviser for 2018!
We live just 3.5 kms from the ancient temples city of Angkor Wat in a beautiful, riverside location much like an extension of the peaceful countryside of Angkor Wat itself. Also just 1 km from the Royal Palace, and the Raffles Grand Hotel, it is located near superb boutique hotels and the Apsara Theatre founded by Princess Norodom who restored the Royal Cambodian Ballet after its dancers and the precious knowledge of the ancient dances were almost entirely destroyed by the Khmer Rouge. Today, Siem Reap, the nearby town, is a thriving, energy filled, yet laid back place with lots of life, cafes, and joie de vivre.
Retreats are in Cambodia near the ancient 12th century temple city of Angkor Wat.
*There are plenty of things to do here - and Angkor Wat has just been voted the #1 tourist destination by Trip Adviser for 2018, just see our Tour Consultant for Temple Tours, bookings for shows etc, or about visiting more distant sites.
*Also nearby is the Apsara Theatre with Traditional Cambodian Dance show, and dining out for gourmet Khmer cuisine, or French, Italian and so on. You can ride an elephant. There is shopping,
including a Paris trained Cambodian designer range, and a magnificent 2 storey Duty Free store next to the museum. There are cycle tours, quad bike adventures, and more.
1. Relax, but get ready to enjoy learning something new! The lectures/talks are first and foremost about the knowledge that saves this planet and human DNA. It is detailed and quite amazing, also making sense of how the body ceased to make its own Vitamin C and began to age and die.
It covers the Health and Healing topics taught by the Therapeutae - the Greek based teaching which went to Ancient Palestine 3,000 years ago and which is the only source we have found that links back to the time when this planet was whole, balanced, in 'Eden' and existed before the planet fell. So, a little bit of history in there too.
2. These teachings were the original therapeutic basis of 'Let Food Be Thy Medicine' with a focus on raw plant food based, vegetarian and vegan friendly natural health, and the secrets of Healing DNA. Also, with a world facing possible deliberate threats to life, it covers banned and 'not made generally available' natural remedies which successfully treat some cancers and in our own experience have also helped in reducing/removing high levels of toxicity from mercury poisoning. To present these Retreats, we
prefer about 5 participants.
Retreats are in Siem Reap Cambodia near the ancient 12th century temple city of Angkor Wat.
Pictures hopefully set up for cell phone viewing.